This MEMBER PLATFORM is the foundation of MintBuilder and includes access to both the Wholesale Shop and the Income Platform.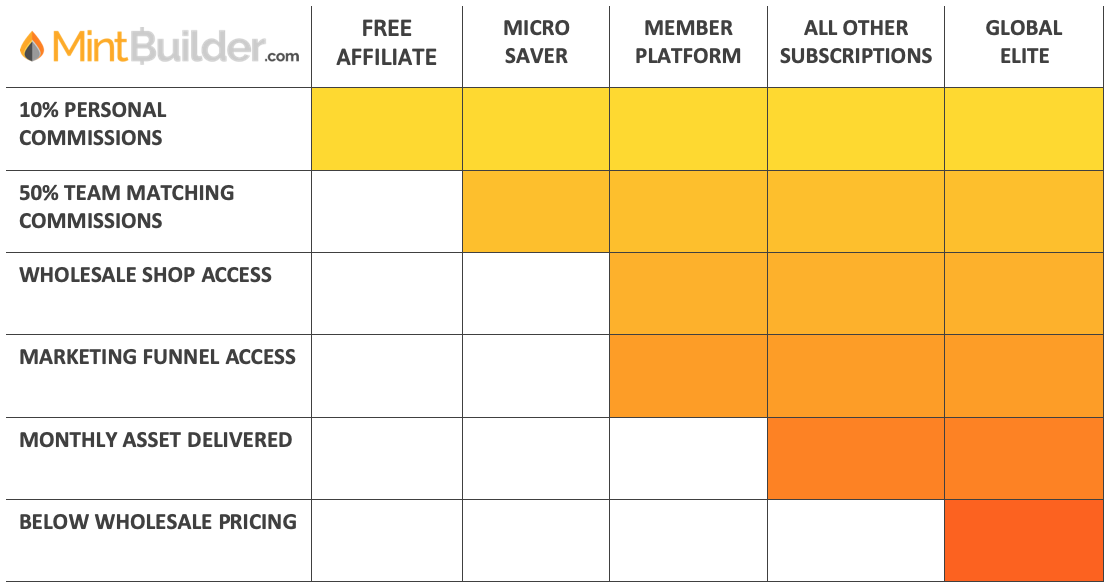 WHOLESALE SHOP:
Provides insider access to TRUE wholesale pricing on Bullion and Collectible Coins. We guarantee the best prices on Collectible coins and Coin Jewelry. The value is unlimited as you save on all of your silver and gold purchases. You will find tremendous deals even some products that are half the price of other online gold and silver dealers. We are able to get the best prices because of our large subscription base of customers just like you who want to build true wealth, but don't want to over pay for their gold and silver assets. This allows MintBuilder to be a huge player in the bulk buying market and opens doors to mint direct vendors to come to us. We love providing our products to our subscribers at prices that are unheard of to the individual buyer. Access The Wholesale Shop today and enjoy stacking your wealth in bullion and collectibles! FYI the jewelry items make great gifts for many occasions!
INCOME PLATFORM:
Provides access to your own online business which includes; your own replicated site, back office and training for a small monthly flat fee. You won't find a business model like this that cost so little. When you take away the exaggerated fluff and all of the rank qualifying hoops and hurdles, what remains is your true, simple and understandable income potential.
Here at MintBuilder your income is straight forward, unlimited and very powerful! The Income Platform we use is called a Uni-Level and it is the most trusted and sustainable commission based platform in the referral industry. It's simple! Here's how it works... all Subscription sales you personally refer are considered PERSONAL REFERRALS and are frontline to you. Any sales made by people you have personally referred or by any of their personally referred on tiers 2 through 5 below you are considered TEAM REFERRALS.
PLATFORM BENEFITS:
There are no limitations to how wide you can build the first tier of your business. The more referrals you personally introduce the wider and more profitable your business becomes. This width gives you income leverage multiplying the potential of tiers 2 through 5 below you. You are not dependent on the work ethics of others in order to unlock specific rank paid commissions, your new income is right there for the taking. Commissions on personal referrals are set high to create rapid income growth.
Your team members on tiers 2 through 5 will be motivated to earn their own referral commissions just like you causing your leveraged income to soar! Everyone can understand the simplicity of how they earn eliminating the typical business building hesitation seen with new affiliates in businesses with complicated income models. The best part of this platform is enjoying a much lower attrition rate. High drop out rates are typically caused by platforms that over promise and under deliver. Everything here is upfront, simple and very lucrative!
PERSONAL COMMISSIONS:
EARN 10% RECURRING COMMISSIONS. You are paid 10% of the subtotal on all subscription options that you personally refer. Your commissions are recurring which means you are paid on each subscription monthly. The perfect business model... make one referral and continue to earn from it! How many recurring subscriptions do you want to earn from? (e.g.. Personally Refer one Select Pack and you are paid $17.70 every month for that single referral. Set a goal of one referral per week and see your income explode!)
TEAM MATCHING:
RECEIVE 50% RECURRING MATCHES . We add up ALL of the commissions earned in your *ENTIRE TEAM and pay you a 50% match of their total income. Your Team Matching Commissions are also recurring which means you are paid a 50% match every month. (e.g.. Any *team member makes a referral of one Select Pack they earn $17.70 and you are paid $8.85 every month for that single referral they made. When they follow the plan of one referral per week... your income explodes!)