MINTBUILDER TERMS & CONDITIONS
1. Authorization and Contract. By executing the MintBuilder Agreement ("Member Agreement"), you apply for legal authorization to become a MintBuilder Member and enter into contract with Mint Builder, LLC, hereinafter "MintBuilder." You acknowledge that prior to signing you have received, read and understood the MintBuilder Income Disclosure Statement, which are incorporated into this Agreement and made part of it as if restated in full, as posted on our site, and that you have read and agree to all terms set forth in this Agreement. MintBuilder reserves the right to reject any application for any reason within 30 days of receipt.
2. Expiration, Non-renewal, and Termination. The term of this Agreement is month to month or year to year for annual memberships. If you fail to renew your MintBuilder Membership, or if it is canceled or terminated for any reason, you understand that you will permanently lose all rights as a Member. You shall not be eligible to purchase at wholesale membership pricing or sell MintBuilder products nor shall you be eligible to receive commissions, bonuses, or other income resulting from the activities of your former sales organization. In the event of cancellation, termination or nonrenewable, you waive all rights you have, including but not limited to property rights, to your former organization (Customers and Affiliates) and to any bonuses, commissions or other remuneration derived through the sales and other activities of your former organization. Likewise, if any member or affiliate in your team has a membership that is Expired, Non-renewed or Terminated "inactive" for 90 days or longer, MintBuilder has the right to attempt to reach out to this person in order to reactivate them and in doing so has the sole discretion to choose where to place the reactivated member or affiliate. MintBuilder reserves the right to terminate all Member Agreements upon 30 days' notice if the Company elects to: (1) cease business operations; (2) dissolve as a business entity; or (3) terminate distribution of its services via direct selling channels. Member may cancel this Agreement at any time, and for any reason, upon written notice to MintBuilder sent to [email protected]. Member cancelation must be received in writing via email or mail seven (7) days prior to any subscription payment due date. If cancelation is not received seven days prior to the next billing date billing will process and the membership will be canceled for the following month. MintBuilder may cancel this Agreement with immediate effect for any reason upon written notice by email to Member. Including reasons such as having breached any provision of this Agreement or Member has otherwise acted illegally or unethically or in a manner detrimental to MintBuilder, its reputation or goodwill. MintBuilder may also take actions short of termination of the Agreement, if MintBuilder sees such action as fitting.
3. Independent Contractor Status. You agree this authorization does not make you an employee, agent, or legal representative of MintBuilder or your Sponsoring Member. As a self-employed independent contractor, you will be operating your own independent business, buying and selling services available through MintBuilder on your own account. You have complete freedom in determining the number of hours that you will devote to your business, and you have the sole discretion of scheduling such hours. MintBuilder being a USA registered business has a legal requirement to furnish to USA residents and to the IRS (should a Member receive earnings of $600 or more) an IRS Form 1099-MISC reflecting the amount of $ income paid to you during the calendar year. It will be your sole responsibility to account for such income on your individual income tax returns.
4. Presenting the Plan. You agree when presenting the MintBuilder Compensation Plan to present it in its entirety as outlined in official MintBuilder materials, emphasizing that sales to end consumers are required to receive compensation. Your compensation is strictly based on how much sales you and your five tier team make on Retail Products and/or Wholesale Customer Memberships and/or Asset Bundles that are sold. NO compensation is paid on the recruitment of participation in the Income Platform. The Income Platform is a Free add on that is optional for our Retail and Wholesale Customers to use. In presenting the plan to prospects, you agree not to utilize any literature, materials or aids not produced or specifically authorized in writing by MintBuilder. You agree to instruct all prospective Members to review the MintBuilder Compensation Plan PDF located on our website and to review our Income Disclosure Statement located at the bottom of this document.
5. Selling the Service. You agree to make no representations or claims about any services beyond those shown in official MintBuilder literature. You further agree to sell services available through MintBuilder only in authorized territories.
6. MintBuilder's Proprietary Information and Trade Secrets. You recognize and agree that information compiled by or maintained by MintBuilder, including Line of Sponsorship (LOS) information (i.e..., information that discloses or relates to all or part of the specific arrangement of sponsorship within the MintBuilder business including, without limitation, Member lists, sponsorship trees, and all MintBuilder Member information generated therefrom, in its present or future forms), constitutes a commercially advantageous, unique and proprietary trade secret of MintBuilder, which it keeps as proprietary and confidential and treats as a trade secret. During the term of your contract with MintBuilder, MintBuilder grants you a personal, non-exclusive, non-transferable and revocable right to use trade secret, confidential, and proprietary business information (Proprietary Information), which includes, without limitation, LOS information, business reports, service developments, and Member sales, earnings and other financial reports to facilitate your MintBuilder business.
7. Non-Solicitation Agreement. You agree that during the period while you are a Member, and for one calendar year following resignation, non-renewal, or termination of your business, aside from your own personally sponsored Members you will not encourage, solicit, or otherwise attempt to recruit or persuade any other Member to compete with the business of MintBuilder. MintBuilder considers this action Cross line promoting and has a zero tolerance policy leading to immediate termination of your membership and membership privileges.
8. Images / Recordings / Consents. You agree to permit MintBuilder to obtain photographs, videos, and other recorded media of you or your likeness. You acknowledge and agree to allow any such recorded media to be used by MintBuilder for any lawful purpose, and without compensation.
9. Modification of Terms. The terms of this Agreement may be modified and publication on our site or in the MintBuilder Back Office is notice of such modification/s.
10. Jurisdiction and Governing Law. The formation, construction, interpretation, and enforceability of your contract with MintBuilder as set forth in this Member Agreement and any incorporated documents shall be governed by and interpreted in all respects under the laws of the State of Florida without regard to conflict of law provisions. Louisiana residents: notwithstanding the foregoing, Louisiana residents may bring an action against Mint Builder, LLC with jurisdiction and venue as provided by Louisiana law.
11. Dispute Resolution. All disputes and claims relating to MintBuilder, its services, the rights and obligations of a Member and MintBuilder, or any other claims or causes of action relating to the performance of either a Member or MintBuilder under the Agreement shall be settled totally and finally by arbitration in Sarasota, Florida, or such other location as MintBuilder prescribes, in accordance with the Federal Arbitration Act and the Commercial Arbitration Rules of the American Arbitration Association, except that all parties shall be entitled to discovery rights allowed under the Federal Rules of Civil Procedure. This agreement to arbitrate shall survive any termination or expiration of the Agreement. Nothing in the Agreement shall prevent MintBuilder from applying to and obtaining from any court having jurisdiction a writ of attachment, garnishment, temporary injunction, preliminary injunction, permanent injunction or other equitable relief available to safeguard and protect its interest prior to, during or following the filing of any arbitration or other proceeding or pending the rendition of a decision or award in connection with any arbitration or other proceeding.
12. Time Limitation. If a Member wishes to bring an action against MintBuilder for any act or omission relating to or arising from the Agreement, such action must be brought within one year from the date of the alleged conduct giving rise to the cause of action. Member waives all claims that any other statutes of limitations apply.
13. Refunds and Product Returns on resale. You agree that if you resell products directly to a customer, you will adhere to MintBuilder's refund policy (found on our site and incorporated herein) and shall provide the customer a refund of monies paid if the customer returns any product to you within fifteen (15) days of the sales transaction in the same manner as the MintBuilder policy.
14. Miscellaneous. If any provision of the Agreement is held to be invalid or unenforceable, such provision shall be reformed only to the extent necessary to make it enforceable, and the balance of the Agreement will remain in full force and effect. This Agreement may be executed in any number of counterparts, each of which shall be deemed an original, but all of which together shall constitute one instrument. The provisions of this Agreement, including all documents incorporated herein by reference, embody the whole agreement between you and MintBuilder and supersedes any prior agreements, understandings and obligations between you and MintBuilder concerning the subject matter of your contract with MintBuilder. It is also understood that MintBuilder's sales do not only come from affiliate referrals, and MintBuilder can refer sales with an in house sales team.
15. Notice of Right to Cancel. You may request a refund on your enrollment fee and initial order if it's done within fifteen (15) days from the date of enrollment. If you cancel, any enrollment fees paid will be returned within TEN (10) BUSINESS DAYS following receipt by the seller of your cancellation notice and the return of the initial physical product (if any) purchase. To cancel this transaction, send a written notice to [email protected], not later than midnight of the fifteenth business day following the date of this Agreement.
16. Willable. Your business center is willable and transferrable.
17. Children. MintBuilder is committed to the safety of our children. Persons under the age of 18 may not purchase a Wholesale Customer Membership or promote MintBuilder as an affiliate. Children under the age of 13 may not purchase products through any of our Websites. MintBuilder does not solicit or knowingly collect personally identifiable information from children under the age of 13.
18. Shipment. Once your order ships, you will receive a Shipped email with a tracking number. Note that it in some cases it may take 24-48 hours for tracking to begin. MintBuilder fully insures all its shipments, and each package over $500 requires a signature upon delivery. Should anything happen while your package is in transit to you, it will be covered by our insurance policy subject to the other conditions set forth in this Section 18. However, once a package is shown to be delivered by the carrier, MintBuilder's responsibility ends. It is important you are prepared to be physically present at the shipping address when the shipment is delivered. We will not accept responsibility if the carrier leaves the package without your acceptance, leaves the package without a signature, or leaves the package with anyone other than the addressee. This includes, but is not limited to a building manager, neighbor, a business mailroom, drop-off location such as mailboxes, etc., post office (PO) boxes, the UPS Store, the Military Postal Service, etc. Note that if you use one of these locations as the shipping address, MintBuilder is not responsible. In addition, if the carrier returns the package to sender due to no one being available to receive your package, we will not accept responsibility if something goes wrong in the return to sender process. This includes the package not making it back to our distribution center, damage or missing contents, etc. Additionally, we will not assume responsibility for packages that are forwarded, signed for by apartment/complex building management, a business mailroom, the Military Postal Service or any person(s) that is not the addressee listed on the order. Delivered but not Received –Please note that MintBuilder will not be responsible for reimbursements or insurance claims on packages that are successfully delivered as addressed. Our liability and insurance cease the moment the package is signed for or left at the specified delivery address. Any issues or problems with a shipment MUST be reported to MintBuilder within two (2) calendar days of recorded delivery, else MintBuilder may deny any claim. Lost in Transit – Lost in Transit is defined for the USPS as tracking not having updated in 5 or more calendar days. For UPS, it is 3 calendar days. You must contact us within 7 days of the most recent tracking for USPS and 3 days of the most recent tracking for UPS. If you do not contact us by these timeframes, insurance will not cover the package. Missing or Damaged Contents – This is defined as packages that arrive to you with missing items, wrong items, or damaged items. You must notify us with 48 hours of the delivery timestamp on the tracking. Failure to do so will result in loss of insurance coverage. For any of these issues, MintBuilder assumes responsibility to pursue any claim with the insurance company; provided that you agree to cooperate with us in filing a claim for damaged/lost merchandise in any manner we may reasonably request, including the signing of an Affidavit stating the circumstances surrounding the damaged/lost merchandise within the allotted time frame. If we determine the package is lost or damaged, we will file a claim. Once the claim is filed, we reserve the right to reship your items or refund your money at our discretion.
19.

SMS/MMS MOBILE MESSAGE MARKETING PROGRAM TERMS AND CONDITION

S
When purchasing a product or service from MintBuilder, you agree to receive recurring automated promotional and personalized marketing text messages (e.g. cart reminders) at the cell number used when making the purchase. Reply HELP for help and STOP to cancel. Msg frequency varies. Msg & data rates may apply.
MintBuilder.com, LLC (hereinafter, "We," "Us," "Our") is offering a mobile messaging program (the "Program"), which you agree to use and participate in subject to these Mobile Messaging Terms and Conditions and Privacy Policy (the "Agreement"). By opting in to or participating in any of our Programs, you accept and agree to these terms and conditions, including, without limitation, your agreement to resolve any disputes with us through binding, individual-only arbitration, as detailed in the "Dispute Resolution" section below. This Agreement is limited to the Program and is not intended to modify other Terms and Conditions or Privacy Policy that may govern the relationship between you and Us in other contexts.
User Opt In: The Program allows Users to receive up to 10 SMS/MMS mobile messages per month by affirmatively opting into the Program, such as through online or application-based enrollment forms. Regardless of the opt-in method you utilized to join the Program, you agree that this Agreement applies to your participation in the Program. By participating in the Program, you agree to receive autodialed or prerecorded marketing mobile messages at the phone number associated with your opt-in, and you understand that consent is not required to make any purchase from Us. While you consent to receive messages sent using an autodialer, the foregoing shall not be interpreted to suggest or imply that any or all of Our mobile messages are sent using an automatic telephone dialing system ("ATDS" or "autodialer"). Message and data rates may apply.
User Opt Out: If you do not wish to continue participating in the Program or no longer agree to this Agreement, you agree to reply STOP, END, CANCEL, UNSUBSCRIBE, or QUIT to any mobile message from Us in order to opt out of the Program. You may receive an additional mobile message confirming your decision to opt out. You understand and agree that the foregoing options are the only reasonable methods of opting out. You also understand and agree that any other method of opting out, including, but not limited to, texting words other than those set forth above or verbally requesting one of our employees to remove you from our list, is not a reasonable means of opting out.
Duty to Notify and Indemnify: If at any time you intend to stop using the mobile telephone number that has been used to subscribe to the Program, including canceling your service plan or selling or transferring the phone number to another party, you agree that you will complete the User Opt Out process set forth above prior to ending your use of the mobile telephone number. You understand and agree that your agreement to do so is a material part of these terms and conditions. You further agree that, if you discontinue the use of your mobile telephone number without notifying Us of such change, you agree that you will be responsible for all costs (including attorneys' fees) and liabilities incurred by Us, or any party that assists in the delivery of the mobile messages, as a result of claims brought by individual(s) who are later assigned that mobile telephone number. This duty and agreement shall survive any cancellation or termination of your agreement to participate in any of our Programs.
YOU AGREE THAT YOU SHALL INDEMNIFY, DEFEND, AND HOLD US HARMLESS FROM ANY CLAIM OR LIABILITY RESULTING FROM YOUR FAILURE TO NOTIFY US OF A CHANGE IN THE INFORMATION YOU HAVE PROVIDED, INCLUDING ANY CLAIM OR LIABILITY UNDER THE TELEPHONE CONSUMER PROTECTION ACT, 47 U.S.C. § 227, et seq., OR SIMILAR STATE AND FEDERAL LAWS, AND ANY REGULATIONS PROMULGATED THEREUNDER RESULTING FROM US ATTEMPTING TO CONTACT YOU AT THE MOBILE TELEPHONE NUMBER YOU PROVIDED.
Program Description: Without limiting the scope of the Program, users that opt into the Program can expect to receive messages concerning the marketing and sale of precious metals and other wealth related services.
Cost and Frequency: Message and data rates may apply. The Program involves recurring mobile messages, and additional mobile messages may be sent periodically based on your interaction with Us.
Support Instructions: For support regarding the Program, email us at [email protected]. Please note that the use of this email address is not an acceptable method of opting out of the program. Opt outs must be submitted in accordance with the procedures set forth above.
MMS Disclosure: The Program will send SMS TMs (terminating messages) if your mobile device does not support MMS messaging.
Our Disclaimer of Warranty: The Program is offered on an "as-is" basis and may not be available in all areas at all times and may not continue to work in the event of product, software, coverage or other changes made by your wireless carrier. We will not be liable for any delays or failures in the receipt of any mobile messages connected with this Program. Delivery of mobile messages is subject to effective transmission from your wireless service provider/network operator and is outside of Our control. T-Mobile is not liable for delayed or undelivered mobile messages.
Participant Requirements: You must have a wireless device of your own, capable of two-way messaging, be using a participating wireless carrier, and be a wireless service subscriber with text messaging service. Not all cellular phone providers carry the necessary service to participate. Check your phone capabilities for specific text messaging instructions.
Age Restriction: You may not use of engage with the Platform if you are under thirteen (13) years of age. If you use or engage with the Platform and are between the ages of thirteen (13) and eighteen (18) years of age, you must have your parent's or legal guardian's permission to do so. By using or engaging with the Platform, you acknowledge and agree that you are not under the age of thirteen (13) years, are between the ages of thirteen (13) and eighteen (18) and have your parent's or legal guardian's permission to use or engage with the Platform, or are of adult age in your jurisdiction. By using or engaging with the Platform, you also acknowledge and agree that you are permitted by your jurisdiction's Applicable Law to use and/or engage with the Platform.
Prohibited Content: You acknowledge and agree to not send any prohibited content over the Platform. Prohibited content includes:
Any fraudulent, libelous, defamatory, scandalous, threatening, harassing, or stalking activity;
Objectionable content, including profanity, obscenity, lasciviousness, violence, bigotry, hatred, and discrimination on the basis of race, sex, religion, nationality, disability, sexual orientation, or age;
Pirated computer programs, viruses, worms, Trojan horses, or other harmful code;
Any product, service, or promotion that is unlawful where such product, service, or promotion thereof is received;
Any content that implicates and/or references personal health information that is protected by the Health Insurance Portability and Accountability Act ("HIPAA") or the Health Information Technology for Economic and Clinical Health Act ("HITEC" Act); and
Any other content that is prohibited by Applicable Law in the jurisdiction from which the message is sent.
Dispute Resolution: In the event that there is a dispute, claim, or controversy between you and Us, or any other third-party service provider acting on Our behalf to transmit the mobile messages within the scope of the Program, arising out of or relating to federal or state statutory claims, common law claims, this Agreement, or the breach, termination, enforcement, interpretation or validity thereof, including the determination of the scope or applicability of this agreement to arbitrate, such dispute, claim, or controversy will be, to the fullest extent permitted by law, determined by arbitration in Daytona Beach, Florida before one arbitrator.
The parties agree to submit the dispute to binding arbitration in accordance with the Commercial Arbitration Rules of the American Arbitration Association ("AAA") then in effect. Except as otherwise provided herein, the arbitrator shall apply the substantive laws of the Federal Judicial Circuit in which [COMPANY NAME]'s principle place of business is located, without regard to its conflict of laws rules. Within ten (10) calendar days after the arbitration demand is served upon a party, the parties must jointly select an arbitrator with at least five years' experience in that capacity and who has knowledge of and experience with the subject matter of the dispute. If the parties do not agree on an arbitrator within ten (10) calendar days, a party may petition the AAA to appoint an arbitrator, who must satisfy the same experience requirement. In the event of a dispute, the arbitrator shall decide the enforceability and interpretation of this arbitration agreement in accordance with the Federal Arbitration Act ("FAA"). The parties also agree that the AAA's rules governing Emergency Measures of Protection shall apply in lieu of seeking emergency injunctive relief from a court. The decision of the arbitrator shall be final and binding, and no party shall have rights of appeal except for those provided in section 10 of the FAA. Each party shall bear its share of the fees paid for the arbitrator and the administration of the arbitration; however, the arbitrator shall have the power to order one party to pay all or any portion of such fees as part of a well-reasoned decision. The parties agree that the arbitrator shall have the authority to award attorneys' fees only to the extent expressly authorized by statute or contract. The arbitrator shall have no authority to award punitive damages and each party hereby waives any right to seek or recover punitive damages with respect to any dispute resolved by arbitration. The parties agree to arbitrate solely on an individual basis, and this agreement does not permit class arbitration or any claims brought as a plaintiff or class member in any class or representative arbitration proceeding. Except as may be required by law, neither a party nor the arbitrator may disclose the existence, content, or results of any arbitration without the prior written consent of both parties, unless to protect or pursue a legal right. If any term or provision of this Section is invalid, illegal, or unenforceable in any jurisdiction, such invalidity, illegality, or unenforceability shall not affect any other term or provision of this Section or invalidate or render unenforceable such term or provision in any other jurisdiction. If for any reason a dispute proceeds in court rather than in arbitration, the parties hereby waive any right to a jury trial. This arbitration provision shall survive any cancellation or termination of your agreement to participate in any of our Programs.
Miscellaneous: You warrant and represent to Us that you have all necessary rights, power, and authority to agree to these Terms and perform your obligations hereunder, and nothing contained in this Agreement or in the performance of such obligations will place you in breach of any other contract or obligation. The failure of either party to exercise in any respect any right provided for herein will not be deemed a waiver of any further rights hereunder. If any provision of this Agreement is found to be unenforceable or invalid, that provision will be limited or eliminated to the minimum extent necessary so that this Agreement will otherwise remain in full force and effect and enforceable. Any new features, changes, updates or improvements of the Program shall be subject to this Agreement unless explicitly stated otherwise in writing. We reserve the right to change this Agreement from time to time. Any updates to this Agreement shall be communicated to you. You acknowledge your responsibility to review this Agreement from time to time and to be aware of any such changes. By continuing to participate in the Program after any such changes, you accept this Agreement, as modified.
20. INCOME DISCLOSURE
You will find our most recent Income Disclosure at the following link https://mintbuilder.com/mlm/income/disclosure.
21. PERSONAL AND TEAM COMMISSIONS
Personal and Team commissions are earned on the sale of retail priced products and also on customer wholesale access memberships sold. No compensation is paid on recruitment (the obtaining of participation in the Income plan which is free). The amount paid is based on the subtotal price of each commissionable sale within your five tiers. Commissions may be retracted if a refund is issued to the retail/wholesale customer who made the purchase. The pricing of Wholesale Customer membership services and all retail products are subject to change. In order to earn and retain commissions you must be active on a subscription which includes the Free Membership. To withdrawal commissions you must have a balance of $20 or more. Commissions below $20 can be used towards the purchase of products in the shop and/or towards subscriptions.
22. CAR BONUS
To qualify for the $700 monthly Car Bonus, you must achieve and maintain a minimum of five personal (QP) Qualifying Points (You earn one Qualifying Point from the sale of a Basic Wholesale Customer Member and two Qualifying Points from the sale of the Pro Wholesale Customer Membership) within your first tier. You must also achieve and maintain a minimum total of 250 (QP) Qualifying Points within your total five-tier team of which no more than 40% can come from one customer/member line. Once you achieve these qualifications in any given month you will earn $700 which will be paid the first Monday of the following month. If qualifications are not met in any given month you will not be paid the following month, however you have the opportunity to re-qualify any given month. If you opt out of having a qualifying car you can choose the $400 a month cash option instead. The Car Bonus is not part of the typical commissions earned it is a special bonus that MintBuilder reserves the right to modify.
23. LIFESTYLE BONUS
To qualify for the Lifestyle Bonus, you must achieve and maintain a minimum of five personal (QP) Qualifying Points (You earn one Qualifying Point from the sale of a Basic Wholesale Customer Member and two Qualifying Points from the sale of the Pro Wholesale Customer Membership) within your first tier. You must also achieve and maintain a minimum total of 500 to 20,000 (QP) Qualifying Points within your total five-tier team of which no more than 40% can come from one customer/member line. Once you achieve these qualifications in any given month you will earn based on the level of achievement in the chart below. This onetime bonus is paid in twelve installments. The bonus will be paid the first Monday of the following qualifying month. If qualifications are not met for your previously qualified level in any given month you will be paid based on the level you qualified for that month. If it is below the minimum level you will permanently miss that month's installment. You have the opportunity to re-qualify any given month of your remaining installments. When you qualify for a higher-level payout that will reset your twelve-month installments. This reset only takes place once for every new achievement. The maximum you can earn is $1,000,000 in total. The Lifestyle Bonus is not part of the typical commissions earned it is a special bonus that MintBuilder reserves the right to modify.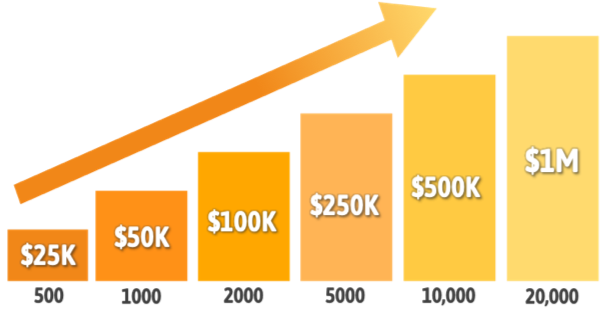 24. PRICING, ORDER & REFUND POLICIES

Subscription Spread Pricing Policy
The pricing of our monthly Asset add on products are affected by the market price of silver. We keep the price locked at the current rate, even if the spot price of silver goes up or down, until the next bulk purchase is made. The prices of our products are affected by; 1. the market spot price of the precious metal, 2. premium increases/decreases and 3. demand in the market place. Therefore, our pricing is subject to change. MINTBUILDER reserves the right to Cancel an order, Hold an order or Adjust pricing accordingly.
Paper Check Payments
When selecting the Paper Check payment option during the checkout process it is important to note that we must receive the check within five (5) business days or the order you placed will be cancelled. This policy is strictly enforced due to the volatile precious metals market. The address to send checks to is: MintBuilder.com LLC 8437 Tuttle Ave., Suite 327, Sarasota, Florida 34243 United States of America.
Bank Wire Payments
payment within one (1) business day or the order you placed will be cancelled. This policy is strictly enforced due to the volatile precious metals market.
Personal Order Integrity and Restrictions
MINTBUILDER'S Wholesale Customer pricing and compensation plan are based on Customers placing their own personal orders through their own account (Personal Order Integrity). Customers are prohibited from placing orders intended for personal use through another Customer's account.
Credit Card Use for Enrollments & Multiple Accounts
Customers are prohibited using same persons Credit Card/s for purchasing more than 2 Memberships or using the same Credit Card for orders on more than 2 accounts (including their own). Failure to comply is grounds for immediate termination. We do realize that in some cases a family who may all want to get involved may have the need to utilize the same Credit Card. In order to do this will require the member to contact the corporate office for expressed approval. This is restricted to immediate family members within the same household.
International Ordering Policy
For orders outside of the USA: Please note that each international order will be insured and declared for the full value. Import duties, taxes, and charges are not included in the item price or shipping cost. These charges are the customer's responsibility should customs require it. Please check with your country's customs office to determine what these additional costs will be prior to purchasing.
Cancellation, Refunds and Returns

A.) Monthly Subscriptions

MINTBUILDER has a 15 Day Cancellation Refund Policy on Initial (1st month) Subscription Packs.
To cancel, send an email to [email protected] including your full name and ID# within 15 days of purchase.
If the product has been shipped the shipping costs associated with returning product are the responsibility of the Customer returning the product.
To return the product(s) for refund send an email to [email protected] including your full name and ID# within 15 days of purchase. Be sure to include the Order #(s) in your email.
Product(s) must be in like new resalable condition.
Upon receipt of cancellation you will receive an email response indicating where to send the product to.
NOTICE TO WHOLESALE CUSTOMERS (Buy Back Guarantee)
Commissions from canceled sales will be reclaimed at the time of order cancellation.
B.) All Other Returns / Sell Your Coins & Bullion
This policy was created to help ACTIVE members have a way to liquidate their precious metals if need be. Just think of all the products we can purchase on a regular basis. Not many of them have a potential to hold value or even increase in value over time as you hold onto them.
However, if you are looking to liquidate your coins and/or bullion, follow the 3 steps below to get an offer quote from MINTBUILDER.
Please Note: MINTBUILDER ONLY buys items that were sold by MINTBUILDER from within our shop and items that are currently available (Subscriptions/Auto-Assets are not included). The MintBuilder Buy Back Guarantee is only offered to ACTIVE WHOLESALE MEMBERS that have been on a CONTINUOUS paid wholesale membership from the time they purchased the product(s) until the time the product(s) are being offered for the Buy Back Guarantee. If a Wholesale Member IS or HAS BEEN inactive after the purchase of the product(s) they are no longer part of the Buy Back Guarantee program.
3 Simple Steps:

Step 1: Email [email protected] with a list describing the items you wish to sell. Be sure to include as much detail as possible including any details written on coin labels.
Step 2: If you accept the quote, mail your items (tracked and insured) to the address provided in the quote.
Step 3: Funds will be sent to you within 3 business days of our receipt of your package!
Further Details:
MINTBUILDER establishes offer quotes based on our current selling price.

All eligible items must be in original, resalable condition.

Coins with any damage or scratches on the casing are not eligible.

Once a quote is accepted, the time and date and pricing will be recorded and the transaction will be locked.

All items sent to MINTBUILDER must be postmarked within 3 business days of the quote.

MINTBUILDER reserves the rights to reject purchasing any item that has not been postmarked within 3 business days.

All items must be returned to MINTBUILDER via a track-able shipping service.

MINTBUILDER is not responsible for any lost, stolen or damaged items during shipping to MINTBUILDER.

MINTBUILDER will issue a check or other payment method for the quoted amount within 3 business days of receipt of the items.

MINTBUILDER reserves the right to change, modify or cancel this "Buyback" program at any time.
25. INTERNATIONAL SHIPPING
Currently MintBuilder is open to do business within the following countries;
Aruba

Australia

Austria

Bahamas

Barbados

Belgium

Bermuda

Canada

Cayman Islands

Chile

Czech Republic

Denmark

Finland

France

Georgia

Germany

Greece

Hong Kong

Ireland

Israel

Italy

Japan

Latvia

Luxembourg

Malaysia

Malta

Netherlands

New Zealand

Nigeria

Norway

Papua New Guinea

Philippines

Poland

Portugal

Puerto Rico

Singapore

Solomon Islands

Spain

Sweden

Switzerland

Taiwan

Thailand

Trinidad and Tobago

United Arab Emirates

United Kingdom

United States
26. OPEN VAULT USER AGREEMENT
1. About The Open Vault
The Open Vault is a marketplace that allows users to offer, sell and buy precious metals. The actual
contract for sale is directly between the seller and buyer. MintBuilder will not be held liable for; pricing, taxes, duties, shipping or anything else not mentioned.
Any guidance we provide as part of our Services is solely informational and you may decide to follow it or not. Also, while we may help facilitate the resolution of disputes, MintBuilder has no control over and does not guarantee: the existence, quality, safety or legality of items advertised; the truth or accuracy of users' content or listings; the ability of sellers to sell items; the ability of buyers to pay for items; or that a buyer or seller will actually complete a transaction or return an item.
2. Using The Open Vault
In connection with using or accessing the Services you will not:
post, list or upload content or items in inappropriate categories

breach or circumvent any laws, regulations, third-party rights or our systems, policies, or

determinations of your account status;

use our Services if you are not able to form legally binding contracts (for example, if you are under 18 years old), or are temporarily or indefinitely suspended from using our sites, services, applications or tools;

fail to pay for items purchased by you, unless you have a valid reason

fail to deliver items sold by you, unless you have a valid reason

manipulate the price of any item or interfere with any other user's listings

post false, inaccurate, misleading, deceptive, defamatory, or libelous content

infringe the copyright, trademark, patent, publicity, moral, database, and/or other intellectual property rights (collectively, "Intellectual Property Rights") that belong to or are licensed to MintBuilder. Some, but not all, actions that may constitute infringement are reproducing, performing, displaying, distributing, copying, reverse engineering, decompiling, disassembling, or preparing derivative works from content that belongs to MintBuilder or someone else;

infringe any Intellectual Property Rights that belong to third parties affected by your use of the Services or post content that does not belong to you;

harvest or otherwise collect information about users without their consent; or

circumvent any technical measures used to provide the Services.

If we believe you are abusing The Open Vault and/or our Services in any way, we may, in our sole discretion and without limiting other remedies, limit, suspend, or terminate your user account(s) and access to our Services, delay or remove hosted content, remove any special status associated with your account(s), remove, not display, and/or demote listings, reduce or eliminate any discounts, and take technical and/or legal steps to prevent you from using our Services.

We may cancel unconfirmed accounts or accounts that have been inactive for a long time. Additionally, we reserve the right to refuse, modify, or terminate all or part of our Services to anyone for any reason at our discretion.
3. Policy Enforcement
When a buyer or seller issue arises, we may consider the user's performance history and the specific circumstances in applying our policies. We may choose to be more lenient with policy enforcement in an effort to do the right thing for both buyers and sellers.
4. Fees and Taxes
MintBuilder includes the use of The Open Vault as an active Member only Benefit so there no additional fees charged for using this Service as long as you remain on an appropriate Subscription.
It is the sole responsibility of the Buyer to pay any and all taxes that may be due in their region.
5. Listing Conditions
When listing an item for sale on The Open Vault, you agree to comply with MintBuilder's Listing and Selling Practice Policy which are:
You are responsible for the accuracy and content of the listing and item offered,

MintBuilder can't guarantee exact listing durations,

Content that violates any of MintBuilder's policies may be modified, obfuscated or deleted MintBuilder's discretion,

We may revise product data associated with listings to supplement, remove, or correct information,
6. Purchase Conditions
When buying an item, you agree to the Rules and Policies for Buyers and that:
You are responsible for reading the full item listing before making a commitment to buy,

You enter into a legally binding contract to purchase an item when you commit to buy an item, your offer for an item is accepted

We do not transfer legal ownership of items from the seller to the buyer
7. International Buying and Selling; Translation
The Open Vault is accessible to international sellers and buyers. Sellers and buyers are responsible for complying with all laws and regulations applicable to the international sale, purchase, and shipment of items. If you purchase an item on The Open vault site, you are subject to the User Agreement for that particular purchase. MintBuilder is not responsible.
8. Content
When you provide content using The Open Vault (directly or indirectly), you grant us a non-exclusive, worldwide, perpetual, irrevocable, royalty-free, sub-licensable (through multiple tiers) right to exercise any and all Intellectual Property Rights (as defined above) you have in that content in connection with our provision, expansion, and promotion of the Services, in any media known now or developed in the future. To the fullest extent permitted under applicable law, you waive your right to enforce your Intellectual Property Rights in that content against MintBuilder, our assignees, our sublicensees, and their assignees in connection with our, those assignees', and those sublicensees' use of that content in connection with our provision, expansion, and promotion of the Services.
You represent and warrant that, for all such content you provide, you own or otherwise control all necessary rights to do so and to meet your obligations under this User Agreement. You represent and warrant that such content is accurate. You represent and warrant that use of any such content (including derivative works) by us, our users, or others in contract with us, and in compliance with this User Agreement, does not and will not infringe any Intellectual Property Rights of any third party. MintBuilder takes no responsibility and assumes no liability for any content provided by you or any third party.
We offer product data (including images, descriptions and specifications) that are provided by third parties (including The Open Vault users). You may use that content solely in your the Open Vault listings. MintBuilder may modify or revoke that permission at any time in our sole discretion. The product data includes copyrighted, trademarked and other proprietary materials. You agree not to remove any copyright, proprietary, or identification markings in the product data and not to create any derivative works based on that data (other than by including the data in your listings).
We try to offer reliable product data, but cannot promise that the content provided through the Services will always be available, accurate, complete, and up-to-date. You agree that MintBuilder is not responsible for examining or warranting the listings or content provided by third parties through the Services, and that you will not attempt to hold us or our data providers liable for inaccuracies. As a seller, you agree to ensure that content directly associated with your listings is accurate.
The name "The Open Vault" and other MintBuilder marks, logos, designs, and phrases that we use in connection with our Services are trademarks, service marks, or trade dress of MintBuilder in the U.S. and other countries. They may not be used without the express written prior permission of MintBuilder.
Privacy of Others; Marketing
If The Open Vault provides you with information about another user, you agree you will use the information only for the purposes that it is provided to you. You may not disclose, sell, rent, or distribute a user's information to a third party for purposes unrelated to the Services. Additionally, you may not use user information for marketing purposes, via electronic or other means, unless you obtain the consent of the specific user to do so.
9. Additional Terms
Returns and Cancellations
Sellers can create rules to automate replacements, returns, and refunds under certain circumstances. Sellers may remove or customize their return preferences in their listing within The Open Vault. When an item is returned, it is the sole responsibility of the seller to refund the buyer. The cost of return shipping for an item that is not as described is the seller's responsibility.
10. Disclaimer of Warranties; Limitation of Liability
We try to keep our Services safe, secure, and functioning properly, but we cannot guarantee the continuous operation of or access to our Services.
You agree that you are making use of The Open Vault at your own risk, and that it is being provided to you on an "AS IS" and "AS AVAILABLE" basis. Accordingly, to the extent permitted by applicable law, we exclude all express or implied warranties, terms and conditions including, but not limited to, implied warranties of merchantability, fitness for a particular purpose, and non-infringement.
In addition, to the extent permitted by applicable law, we (including our parent, subsidiaries, and affiliates, and our and their officers, directors, agents and employees) are not liable, and you agree not to hold us responsible, for any damages or losses (including, but not limited to, loss of money, goodwill or reputation, profits, other intangible losses, or any special, indirect, or consequential damages) resulting directly or indirectly from:
the content you provide (directly or indirectly) using the Services;

your use of or your inability to use our Services;

pricing, shipping, format, or other guidance provided by MintBuilder

delays or disruptions in our Services;

viruses or other malicious software obtained by accessing or linking to our Services;

glitches, bugs, errors, or inaccuracies of any kind in our Services;

damage to your hardware device from the use of any MintBuilder Service;
the content, actions, or inactions of third parties, including items listed using our Services or the destruction of allegedly fake items;

a suspension or other action taken with respect to your account or breach of the Abusing The Open Vault Section above;

the duration or manner in which your listings appear in search results as set out in the Listing Conditions Section above; or

your need to modify practices, content, or behavior, or your loss of or inability to do business, as a result of changes to this User Agreement or our policies. Some jurisdictions do not allow the disclaimer of warranties or exclusion of damages, so such disclaimers and exclusions may not apply to you.
11. Release
If you have a dispute with one or more users, you release us (and our affiliates and subsidiaries, and our and their respective officers, directors, employees and agents) from claims, demands and damages (actual and consequential) of every kind and nature, known and unknown, arising out of or in any way connected with such disputes. In entering into this release you expressly waive any protections (whether statutory or otherwise) that would otherwise limit the coverage of this release to include only those claims which you may know or suspect to exist in your favor at the time of agreeing to this release.
12. Indemnity
You will indemnify and hold us (including our affiliates and subsidiaries, as well as our and their respective officers, directors, employees, agents) harmless from any claim or demand, including reasonable legal fees, made by any third party due to or arising out of your breach of this User Agreement, your improper use of eBay's Services or your breach of any law or the rights of a third party.
13. General
Except as otherwise provided in this User Agreement, if any provision of this User Agreement is held to be invalid, void or for any reason unenforceable, such provision shall be struck out and shall not affect the validity and enforceability of the remaining provisions. In our sole discretion, we may assign this User Agreement, and in such event, we will post notice on www.mintbuilder.com.
Headings are for reference purposes only and do not limit the scope or extent of such Section. Our failure to act with respect to a breach by you or others does not waive our right to act with respect to subsequent or similar breaches. We do not guarantee we will take action against all breaches of this User Agreement.
We may amend this User Agreement at any time by posting the amended terms on www.mintbuilder.com. Our right to amend the User Agreement includes the right to modify, add to, or remove terms in the User Agreement. We will notify you through the MintBuilder Message Center and/or by email. Your continued access or use of our Services constitutes your acceptance of the amended terms. We may also ask you to acknowledge your acceptance of the User Agreement through an electronic click- through. This User Agreement may not otherwise be amended except through mutual agreement by you and a MintBuilder representative who intends to amend this User Agreement and is duly authorized to agree to such an amendment.