CANNOT ACCESS THE WHOLESALE SHOP WITH THIS SUBSCRIPTION, YOU DO NOT EARN 50% TEAM MATCHING COMMISSIONS ON TIERS 2-5 AND YOU DO NOT HAVE ACCESS TO THE MARKETING FUNNEL.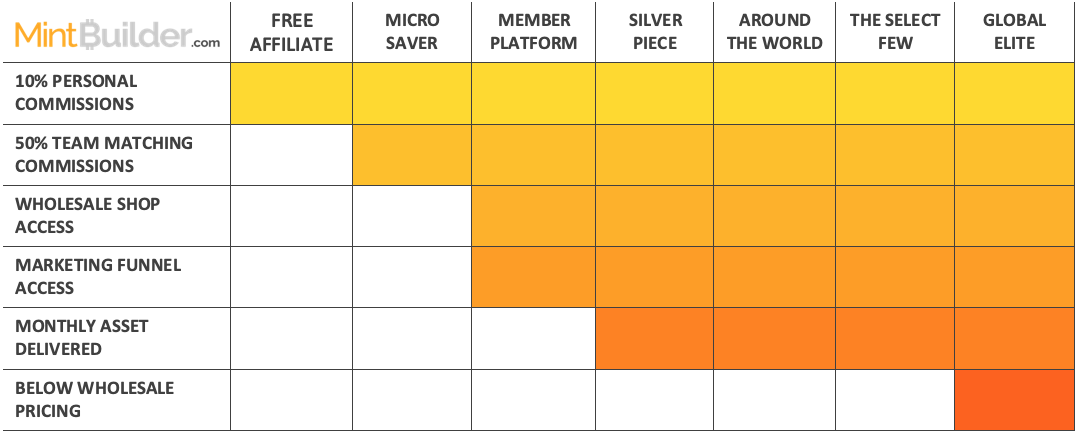 FREE SALES AFFILIATE ACCOUNT:
Subscription gives you access to your own online business which includes; your own replicated site, back office and training for FREE. It's important to understand with this FREE ACCOUNT you earn 10% from your personal sales on tier 1 only. You can upgrade your subscription at any time to receive 50% TEAM Matching Commissions. This is a way to test out the program, but you will want to upgrade for full access at some point.
When you take away the exaggerated fluff and all of the rank qualifying hoops and hurdles, what remains is your true, simple and understandable income potential.
Here at MintBuilder your income is straight forward, unlimited and very powerful! The Income Platform we use is called a Uni-Level and it is the most trusted and sustainable commission based platform in the referral industry. It's simple! Here's how it works... all Subscription sales you personally refer are considered PERSONAL REFERRALS and are frontline to you. Any sales made by people you have personally referred or by any of their personally referred on tiers 2 through 5 below you are considered TEAM REFERRALS.
PLATFORM BENEFITS:
There are no limitations to how wide you can build the first tier of your business. The more referrals you personally introduce the wider and more profitable your business becomes. This width gives you income leverage multiplying the potential of tiers 2 through 5 below you if you chose to upgrade to a FULL Income Platform Subscription. You are not dependent on the work ethics of others in order to unlock specific rank paid commissions, your new income is right there for the taking. Commissions on personal referrals are set high to create rapid income growth.
PERSONAL COMMISSIONS:
EARN 10% RECURRING COMMISSIONS. You are paid 10% of the subtotal on all subscription options that you personally refer. Your commissions are recurring which means you are paid on each subscription monthly. The perfect business model... make one referral and continue to earn from it! How many recurring subscriptions do you want to earn from? (e.g. Personally Refer one of THE SELECT FEW BUNDLES and you are paid $19.70 every month for that single referral. Set a goal of one referral per week and see your income explode!)
TEAM MATCHING:
RECEIVE 50% RECURRING MATCHES when you upgrade to a FULL Income Platform Subscription. We add up ALL of the commissions earned in your *ENTIRE TEAM and pay you a 50% match of their total PERSONAL COMMISSIONS earned. Your Team Matching Commissions are also recurring which means you are paid a 50% match every month. (e.g. Any *team member makes a referral of one of THE SELECT FEW BUNDLES they earn $19.70 and you are paid $9.85 every month for that single referral they made. When they follow the plan of one referral per week... your income explodes!)