Basic Price: $500.00
Pro Price: $500.00
Your Price: $500.00

Description

Review

Q & A

Specs
MySACRED ACCOUNT™
For residents in the United States and Canada only.
1. Watch the short video below to learn how you will benefit from MySacred Account!
2. To learn even more watch our recorded Zoom Q&A video below... it is vital to protect your wealth now and becoming your own bank will help you do just that!
What is MySacred Account?
MySacred Account is a life insurance policy designed a very specific way for a very specific purpose. It is a high early cash value dividend paying whole life insurance policy. It is a personal finance strategy that leverages this policy to be able to grow every year by dividend payments from the insurance company and the ability to accumulate cash value that you can borrow against and use for anything you wish.
Why Life Insurance?
We work with only a handful of life insurance companies. They are all reputable mutual life insurance companies that on average have been around for 150 years and have paid a dividend EVERY SINGLE YEAR. This means there were 0 years that policy holders lost money, but only grew their money.
What are the Benefits & Expected Performance?
3 – 5% average net annual growth over the course of the policy

70 – 90% of your premium being available to borrow against as cash value

Death benefit that doesn't "expire" like term life insurance

Tax free growth

The most secure place to keep your money (More secure than the bank.)

Access your funds anything

Protected from market loss, the IRS, creditors, lawsuits, and even bankruptcy

The ability to grow money while simultaneously using it to build wealth and earning interest 2x on the same money
How to use MySacred Account
We recommend using this money to self-finance the following types of transactions. Large purchases such as cars or furniture, paying off debt or to invest into secure private lending using real estate to create passive income. We do not recommend you use the borrowed funds for everyday expenses or purchases.
Term Life Insurance VS The Sacred Account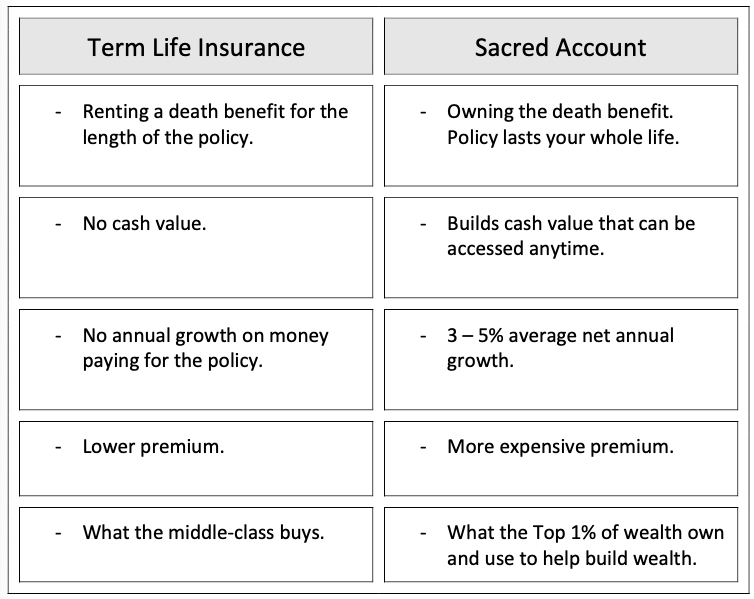 How Much Does it Cost?
There is a one-time setup fee of $500. For this you receive the following:
1. In depth presentation on MySacred Account
2. MySacred Account crash course
3. 6 month membership to Wealth DynamX University
4. 1 copy of the book "The Blueprint To Financial Freedom" by Jerry Fetta
5. 1 copy of "How To Create Wealth" by Jerry Fetta
6. 4 copies of "The Big 3 Challenge Financial Journal" by Jerry Fetta
7. Free 1 on 1 Financial Blueprint coaching call
8. My Sacred Account welcome call, orientation and application
9. Custom MySacred Account design and setup
The minimum recurring monthly savings is $250 per month or up to 15% of your gross monthly income.
Below is an Example of How to use The Sacred Account To Help Secure & Build Wealth